Contents of the Documentation
Use cases
presents the various business use cases in which DOT can be used.
Read more →
Functionalities
The use cases display the Functionalities that are provided by the various components of DOT.
Read more →
API reference
The API reference contains developer documentation of each separate component of the toolkit
Read more →
Samples
The Samples section contains source code samples for mobile functionalities and interactive samples of the server functionalities.
Read more →
Glossary
The Glossary contains explanation of the specific terms used in this documentation.
Read more →
Latest updates
List of the latest versions of the toolkit components.
Read more →
Components of the Toolkit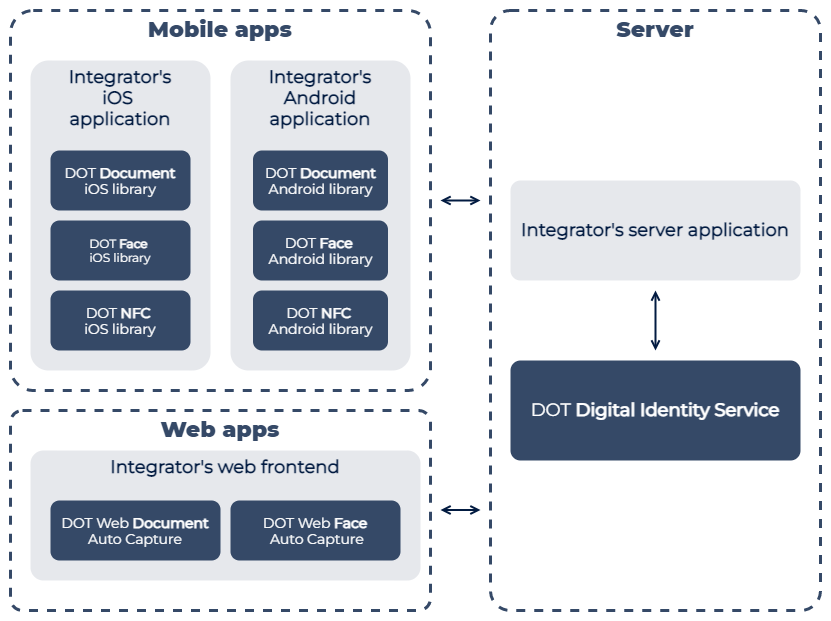 Server Components
Mobile Libraries
Browser Components
DOT Web Document Auto Capture
provides a photo auto capture component for document scanning.
Read more →
DOT Web Face Auto Capture
provides a selfie photo auto capture component.
Read more →
Older version of documentation
The previous version of documentation for Core Server and Document Server is backed up here.
Downloads
Please, proceed to the download section here. You may need to contact Innovatrics to obtain access.
Contact Us